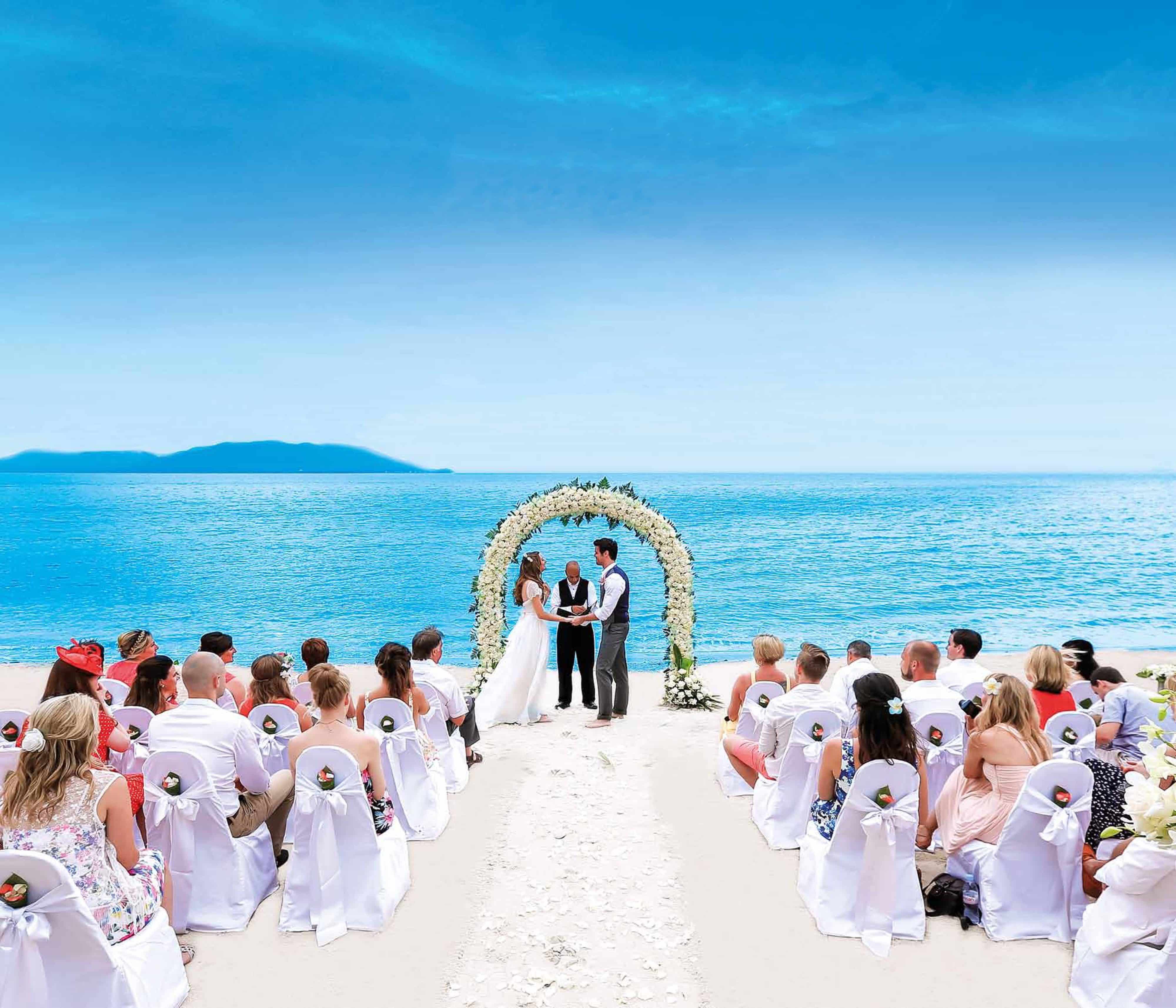 Welcome to Melati Beach Resort & Spa, where your dream wedding destination becomes a reality. Picture yourself standing barefoot on a pristine beach, surrounded by the gentle caress of ocean waves and the warm embrace of a tropical breeze. Samui, with its breathtaking beauty and romantic allure, offers the perfect setting for an unforgettable beach wedding. At Melati Resort, we specialize in crafting picture-perfect weddings, tailored to your desires and infused with the magic of this enchanting island. Join us as we explore why Samui is the ideal location for your dream beach wedding and discover the services and experiences that await you at Melati Resort.
Why Choose Samui for Your Beach Wedding
Dreaming of a beach wedding? Look no further than Samui, the ideal destination to make your dream come true. Here are three compelling reasons why Samui should be your top choice:
1. The Breathtaking Beauty of Samui's Beaches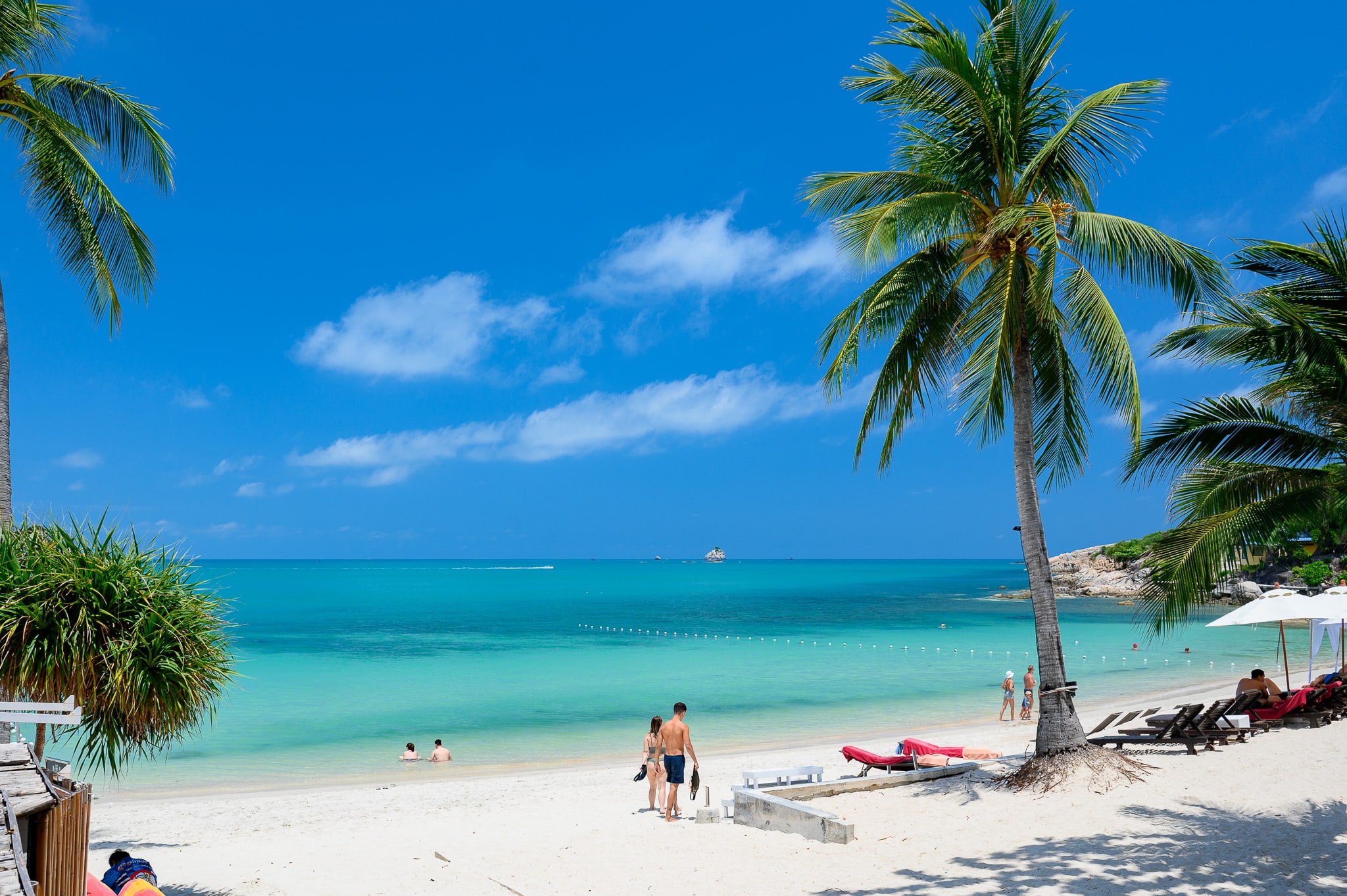 Samui boasts some of the world's most stunning beaches, where azure waters meet pristine shores. Imagine exchanging vows against a backdrop of powdery white sand and crystal-clear seas. Whether you desire a serene intimate ceremony or a grand affair, Samui's beaches offer a picturesque setting that will leave you and your guests in awe.
2. Tropical Paradise: Perfect Setting for Romance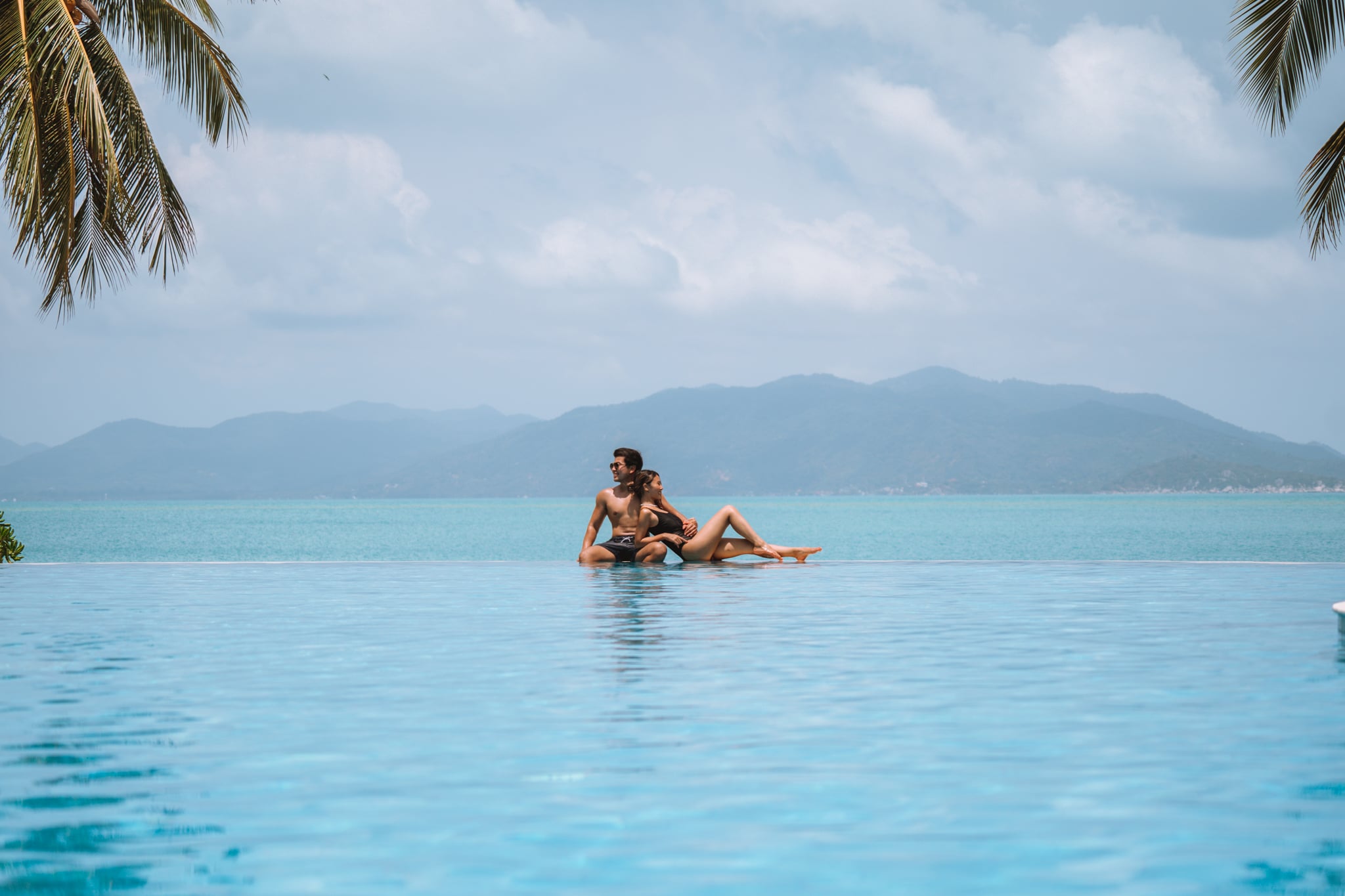 With its lush greenery, swaying palm trees, and gentle sea breeze, Samui is a tropical paradise that epitomizes romance. It sets the stage for a truly magical experience, enveloping you and your loved one in an ambiance of love and serenity. From mesmerizing sunsets to candlelit dinners by the beach, Samui creates an enchanting atmosphere for unforgettable moments.
3. Samui's Warm Hospitality and Wedding Services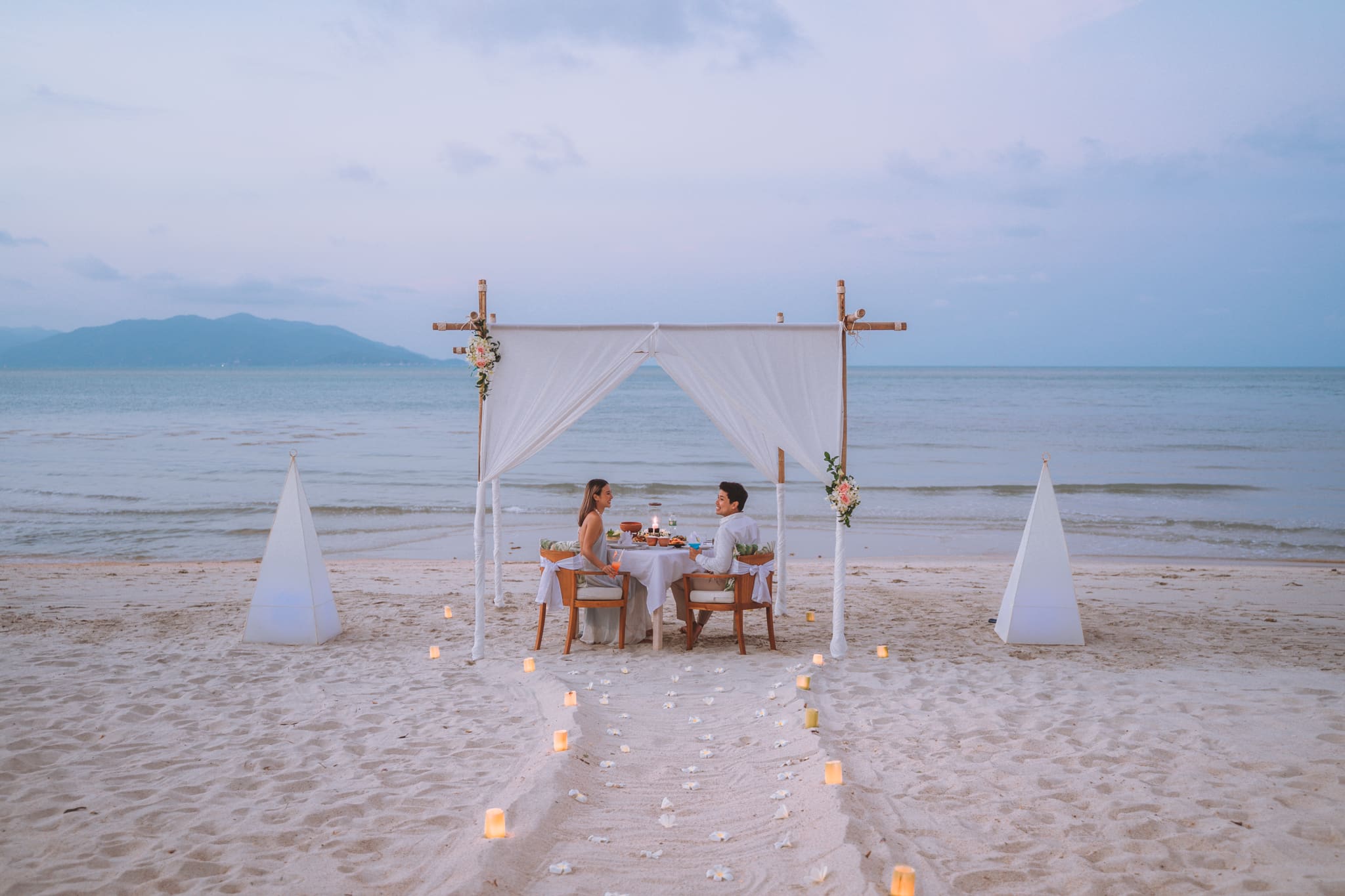 Samui is renowned for its warm hospitality and exceptional wedding services. At Melati Beach Resort & Spa, we understand the significance of your special day and go above and beyond to ensure every detail is taken care of. Our experienced team of wedding professionals will assist you in creating a personalized and flawless ceremony, making your dream wedding a reality.
Planning Your Picture-Perfect Beach Wedding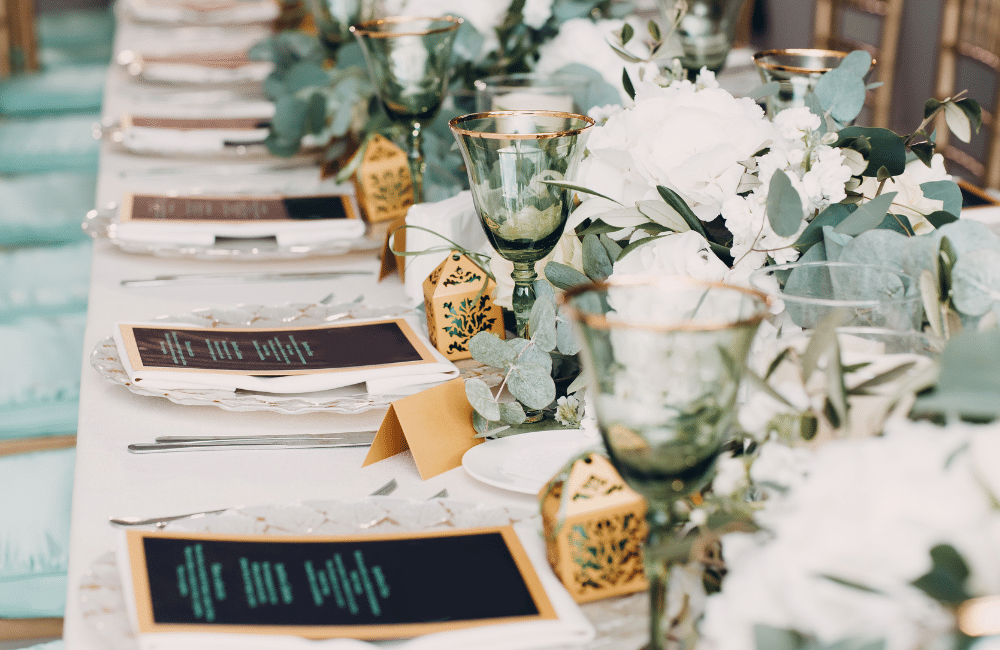 At Melati Resort, we offer comprehensive assistance in planning your picture-perfect beach wedding. Here's what you can expect:
1. Selecting the Ideal Beach Wedding Venue in Samui
Choose from a selection of breathtaking beachfront venues, each offering its unique charm and beauty. Whether you prefer an intimate gathering or a grand celebration, our range of venues ensures you'll find the perfect backdrop for your special day.
2. Beach Wedding Themes and Decorations to Enhance the Ambience
Create a captivating atmosphere with our range of beach wedding themes and decorations. From elegant and minimalist to tropical and vibrant, our expert event planners will work closely with you to bring your vision to life, ensuring every detail reflects your personal style.
3. Designing Your Beach Wedding Ceremony and Reception
Craft a memorable beach wedding ceremony and reception with the assistance of our dedicated team. We offer a variety of options, from traditional to contemporary, and can help you customize the procedure to suit your preferences, ensuring your special day is uniquely yours.
4. Beach Wedding Photography: Capturing Love and Memories
Preserve the precious moments of your beach wedding with professional photography services. Our skilled photographers will capture the love, joy, and emotions shared on your special day, providing you with timeless memories you can cherish forever.
5. Samui's Romantic Activities and Experiences for Wedding Couples
Extend your wedding celebrations and indulge in the romantic activities and experiences Samui has to offer. From private beach dinners to spa treatments for couples, you can immerse yourselves in blissful moments that enhance your overall wedding experience.
6. Unique Touches and Personalization for Your Beach Wedding
At Melati Resort, we believe in adding unique touches and personalization to make your beach wedding truly exceptional. Whether it's customizing your menu to include your favorite dishes, incorporating sentimental elements into the decor, or arranging special surprises for your guests, we are dedicated to making your beach wedding a reflection of your love story.
Celebrate Love with a Romantic Beach Wedding in Samui
Melati Resort in Samui offers the ultimate dream wedding destination for couples seeking a romantic beach wedding experience. With its breathtaking beaches, tropical paradise ambiance, warm hospitality, and expert wedding services, Wedding Samui provides the perfect backdrop for your special day. Our team at Melati Resort is committed to helping you plan and execute a picture-perfect beach wedding, from selecting the ideal venue to designing your ceremony, capturing memories through photography, and adding unique touches that make your wedding truly personalized. Celebrate your love and create lifelong memories at Melati Resort, where dreams become reality.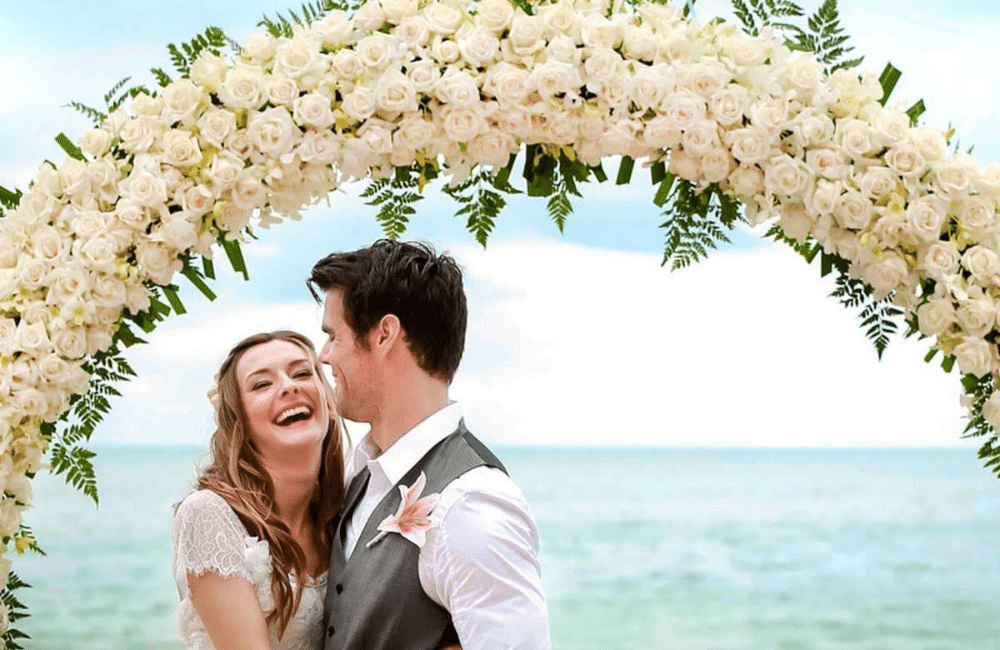 With our extensive experience and passion for creating unforgettable weddings, we invite you to explore the possibilities of a romantic beach wedding in Samui. Contact us today to begin your journey toward the wedding of your dreams at Melati Beach Resort & Spa.